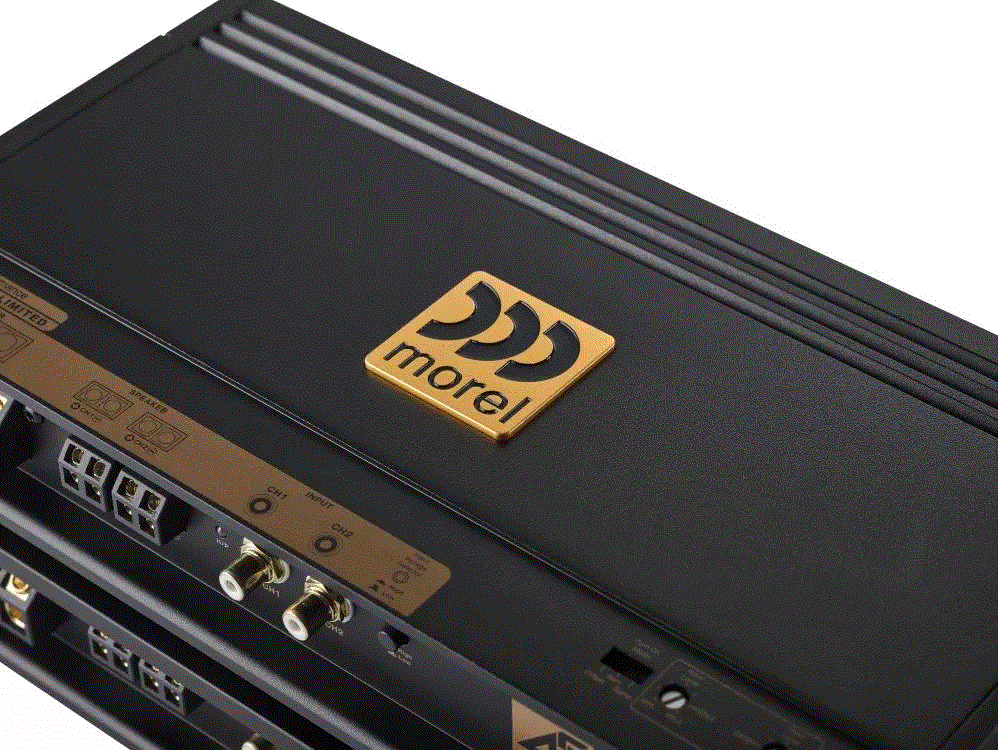 AUD MSRP – $1,383*  – 2 Channel
AUD MSRP – $1,544* – Mono Block
MPS Limited
For the true audiophile who seeks fidelity and power, we introduce you to the MPS LIMITED amplifiers.
Developed to the highest standards to celebrate Morel's 45th anniversary, two models consisting of a 2-channel class AB and a class D mono-block utilise audiophile-grade components, including Burr-Brown OPA2134 op-amps, Rubicon and WIMA ultra-low ESR capacitors, Sanken output transistors, gold plated connections, and chassis-mounted RCA connections. Noise eliminating balanced line inputs accept signal up to 20 volts.
Removable side panel plates allow for unique mounting options and enable amplifiers to be stacked together to minimise their footprint.
This superior design and construction give the MPS LIMITED the power and performance to drive any Morel system to its maximum.
For the true audiophile who seeks fidelity and power, we introduce you to the MPS LIMITED amplifiers. Developed to commemorate Morel's 45th anniversary, the MPS Limited raise the standards in sound amplification.
HiFi Purity
From input to output, there's no doubt the MPS Limited are special. This is immediately evident upon first glance as all connections are gold plated including special chassis-mounted RCA connections, and robust power and speaker wire connections. Inside each amplifier, the signal path has been meticulously designed and components chosen for their superior performance, starting with the selection of the famed Burr-Brown OPA2134 op-amps. These op-amps give the MPS Limited their remarkably natural and detailed sonic profile, and the low tolerance surface mount components and WIMA metalized film capacitors preserve the integrity of the original signal as it flows to the amplifier section. Exceptional Sanken bi-polar output transistors (MPS 2.150 only) were chosen for their superior linear gain, high-output, and low distortion, while ultra-low ESR, high voltage Rubicon capacitors in the power supply and output sections provide the amplifiers with the dynamics and resolution for truly high-end performance.
Optimized for Thermal and Power Efficiency
The compact chassis of MPS Limited was carefully optimized to handle the robust power of each amplifier. Using advanced computational analysis, our engineers developed the two models to share the same chassis dimensions while managing the thermal demands of the two different amplifier topologies. This ensures the power output of each amplifier is maximized and will remain stable while being played at any volume level.
Selectable Voltage Rail Power Supply
The MPS 2.150 Limited was developed with a unique, selectable voltage rail design. Since class AB amplifiers run hotter than their class D counterparts, this feature allows users to maximize the power delivery of the amplifier based on the impedance of the speaker it is powering, thus keeping the amplifier within the optimal thermal range.
Upon installation, one selects the proper mode beneath the amplifier. In high-power mode, the MPS 2.150 Limited produces 150 watts x 2 into a 4-ohm load. Switch to high-current mode and the amplifier is now optimized to make 150w x 2 into 2 ohms. This simple solution makes for an exceptionally stable platform and a highly effective way to exploit the power potential of the amplifier.
The Only Stackable HiFi Car Amplifiers
Keeping the amplifier footprint small compact and tidy was a high priority, but with many systems designed around active configurations and DSPs, multiple channels of amplification are needed. More channels of amplification require multiple amplifiers and additional space. To address this concern, the MPS Limited models are fitted with unique cast aluminum end caps with removable plates. These allow for various mounting options including stacking the amplifiers. Using the optional MPS-STKP stacking plates gives installers the option to minimize floor space consumption with multiple amplifiers by stacking them vertically. Not only does this method save space, the chassis and stacking plates were designed to maintain the maximum thermal efficiency of the amplifier.
Installation Forward
Like the current MPS amplifiers, installation and ease of use were prioritized. Single-sided circuit layouts keep all connections on one side of the amplifier, making installation simple and clean. Preamp tuning and setting options are located discretely under a removable panel at the top of the amplifier along with auto turn-on selection via remote +12V, signal sensing or DC turn-off sensing.
Simple Elegance
Designed to have a simple elegance and thoughtful design, the new MPS Limited models mark the beginning of a new legacy in compact HiFi amplification. Now you have the power and fidelity to compliment any Morel system with true audiophile power.
| | | |
| --- | --- | --- |
| MPS LIMITED 45 | | |
| Model | MPS 1.100 | MPS 2.150 |
| | | |
| 4 ohm W/RMS | 650 | |
| 2 ohm W/RMS | 1,100 | |
| | | |
| Hi Power 4 ohm W/RMS | | 2 x 150 |
| Hi Power 2 ohm W/RMS | | N/A |
| | | |
| Hi Current 4 ohm W/RMS | | 2 x 100 |
| Hi Current 2 ohm W/RMS | | 2 x 150 |
| | | |
| Min Impedance | 2 ohm | 4 ohm Stereo |
| THD+N | 0.10% | 0.02% |
| Freq. Resp. | 10Hz-220Hz | 10Hz-80kHz |
| S/N Ratio - At rated power, A Weighted | 102 dB | 111 dB |
| Damping Factor | >200 | >250 |
| Selectable Input Range | x1 or ×4 | x1 or ×4 |
| Filter | Lo Pass 40-220Hz | No |
| Sub Sonic | Off/25/35Hz | No |
| Sub Level Control - Optional | MPS R1 0-20dB | No |
| Pass through Pre Amp Output | Yes | No |
| Size H x W x L (mm) | 51x170x322 | 51x170x322 |
*Prices correct at 01/12/2021 and are subject to change.