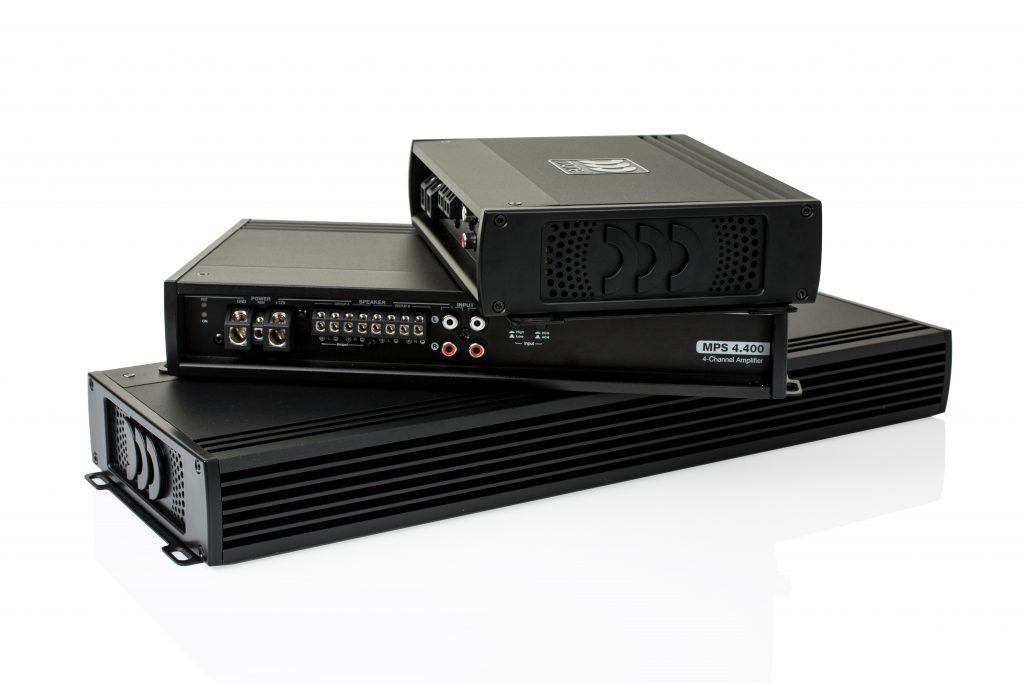 Aud RRP $1,073 – MPS-5.950*
Aud RRP $657 – MPS – 4.400* & MPS – 1.550*
Amplifiers
Accurate Design and High-Level Components
The MPS amplifiers were developed with proper, audiophile-grade components to ensure the highest-level performance.
The MPS incorporate fully balanced differential inputs that provide superior noise rejection and can endure up to 20 volts of signal input, allowing even factory speaker-level signal to be accepted through the RCA connections.
High fidelity Texas Instruments OP amps and ultra-low tolerance surface mount components keep the integrity of the audio signal as pure as possible.
Protection and thermal management are managed via an onboard microprocessor, allowing our engineers to design the amplifier without the need for internal fuses that can impede power delivery to the power supply.
Innovation is at the heart of every Morel product
The new Morel Performance Series amplifiers were developed with the same passion and product philosophy that lead Morel over the past 45 years.  The company's R&D team worked diligently to engineer the MPS series so they provide a fine balance of built quality, sonic performance and affordability.
As a high fidelity speaker manufacturer, Morel thoroughly recognizes how poorly designed amplifiers and electronics can ruin the performance potential of a speaker system. With this in mind, the engineering directive for the MPS amplifiers was simple— produce a series of amplifiers to be exceptionally musical and dynamic, with clean, uncolored power that can drive speakers to their full sonic potential.
Accurate Design and High-Level Components
With installers in mind, our new amplifiers provide a unique feature set and installation-friendly design. Each model uses a single-sided circuit layout with all connections on one side of the amplifier, making installation simple and clean.  Preamp tuning and setting options are located discretely under a removable panel at the top of the amplifier.
Each amplifier is also devised to integrate with OEM audio systems directly through the RCA input with an adaptive connector, and auto turn-on via signal sensing or DC turn-off sensing—features usually found in much more expensive amplifiers.
Our choice of mono, four-channel and five-channel amplifier configurations ensure that the MPS amplifiers will cover almost every sound system design.  We also provide a two-year warranty for the MPS amplifiers when installed by an authorized Morel dealer.
The MPS amplifiers set new sonic boundaries for affordable amplifiers and a unique feature set that places them at the top of their game.
| | | | |
| --- | --- | --- | --- |
| Reference Series | MPS 4.400 | MPS 1.550 | MPS 5.950 |
| Configuration | 4 Channel | Mono | 5 Channel |
| Power 4 ohm | 4 x 70 | 350 | 4 x 70 + 350 |
| Power 2 ohm | 4 x 100 | 550 | 4 x 100 + 550 |
| Class | AB | D | AB + D |
| Freq Resp Main | 10Hz-30kHz | N/A | 10Hz-30kHz |
| Freq. Res. Sub | N/A | 10-220Hz | N/A |
| SN - A weighted | 100dB | 100dB | 100dB |
| Damping Fact. | >100 | >150 | >100 +>150 Sub |
| Select. Input Range | Yes (x1/x2) | Yes (x1/x4) | Yes (x1/x2/x4) |
| Filters Main | HP/LP 40-400HZ | N/A | HP/LP 40-400Hz |
| Filters Sub | N/A | 40-220HZ | 40-220Hz |
| Sub Level Cont. | No | Yes 0-20dB | Yes 0-20dB |
| Sub Filter | No | Selectable Off/25/35 | Selectable Off/25/35 |
| Dimensions | 51H x 170W x 314.5L | 51H x 170W x 214.5L | 51H x 170W x 464.5L |
*Prices correct at 26/07/2021 and are subject to change.